Solar energy is becoming increasingly popular as a more environmentally friendly alternative to traditional energy sources. It provides us with a new and sustainable way to generate electricity. However, the increased adoption of solar energy systems has raised questions about their safety.
Solnet Group is a pioneer in solar energy technology and provides insurance-recommended intelligent solar energy systems that ensure the safety of both the property and the solar power plant through power optimizers. Several insurance companies have already made guidelines and requirements to improve the safety level of solar power plants, such as FM Global, which works closely with its customers, including property owners, to enhance the safety of buildings and site-specific solar power plants. With these systems, we can utilize solar energy more reliably and economically.


Smart solar energy systems also provide real-time remote monitoring
One important aspect of solar energy safety is the proper installation and maintenance of the system. This not only ensures optimal performance but also minimizes the risk of damage or accidents. Solnet Group has always emphasized the importance of maintenance and highlights the significance of professionals regularly inspecting and maintaining the system to ensure its long-term functionality and safety.

Another crucial factor in solar energy safety is the proper design and integration of the electrical system with the property and other power systems. The smart solar energy systems offered by Solnet Group are designed to seamlessly and safely operate together with the existing electrical grid. They have integrated protection mechanisms that prevent overvoltage, short circuits, and other electrical disruptions. This protects the equipment and ensures safe operation both within the property and the electrical grid.

Thirdly, smart solar energy systems not only guarantee safety but also offer many other advantages through intelligent power optimizers. These include real-time remote monitoring and control, enabling efficient system management and performance monitoring. Remote control allows for panel-specific control of the solar power plant, enabling the partial or complete shutdown of the plant when necessary, ensuring the safe access of emergency personnel to the roof.

The smart solar energy systems provided by Solnet Group offer an efficient and reliable solution for harnessing solar energy. Professional installation and maintenance ensure safe operation, while intelligent design and integration allow for seamless operation with the electrical grid. Many of our customers are experienced solar energy users who recognize the importance of safety features and maintenance in their procurement.


Solar energy is an investment that offers an attractive ROI
In addition to reducing carbon dioxide emissions, installing a solar energy system can significantly lower electricity bills and reduce dependence on traditional energy sources. Solar panels generate electricity for free, and surplus energy can be sold back to the grid. More and more companies are considering solar energy as a way to secure their energy supply far into the future. As recent history has shown, energy prices can vary significantly, and volatility is expected to continue in the future. Companies can also acquire a solar energy system through cash flow-positive leasing or a power purchase agreement (PPA), especially if a productive solar power investment is not in line with the company's procurement guidelines.

The future of solar energy looks bright
The European Union strongly supports the industry with its RePowerEU and Green Deal plans. In 2022, 41 GW of solar energy was installed in Europe, and the target for 2023 is 60 GW, which is the minimum amount needed to combat the energy crisis (according to the IEA's estimate). Currently, it seems that even 71 GW would be realistic.

Solar energy is seen on the EU agenda as the backbone of Europe's energy system. The EU's goal is to reach 1 TW of solar energy in Europe by 2030.

There is currently a boom in Europe for installing onsite and near-site solar power plants. In Germany, where Solnet Group has been operating for several years, the potential is enormous, with approximately 21 million commercial and industrial properties that are suitable for solar energy installation.
Smart solar energy systems represent the future of energy technology, offering us a sustainable and secure way to generate electricity. They help us transition towards a cleaner and more sustainable future, where solar energy is a key source of power.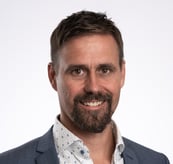 Kaj Kangasmäki, CEO, Solnet Group